Is this the Worlds Best Lotto System? Read on – and you decide!

A Lotto System 12 means you can get half of the numbers wrong – And still win First Prize!
Problem is, a Lotto System 12  is expensive.  It requires 924 games and so is out of the reach of most lotto players. 924 games are the ONLY way to guarantee the 6 numbers will line up if they are amongst your 12.
BUT, there are some interesting alternatives to the full Lotto System 12.  Here are some of them:
 Six Pairs – You Have First Prize *IF* Any Three Pairs Are Correct! This requires only 20 games.
Three Trios –  You Have First Prize *IF* Any Two Trios Are Correct! This requires just SIX games!
And if you COMBINE the "Any 3 pairs from 6 pairs" system with the "Any 2 trios from 4 trios" system you are still only up to 26 games (although there is a small trick that reduces it to just 24 games – we show you how in your FREE lotto book).
However, neither of the above guarantees that if you have 6 winning lotto numbers anywhere, then 5 or all 6 will be together. In your free lotto book, we fix this.
And what happens if the 12 numbers you choose include only 4 winning lotto numbers? In your free lotto book, we show you the extra games required to ensure that if you only have 4 winning lotto numbers, then they will definitely be together.
Now you are probably thinking that this info on how to win the lottery is getting very expensive.  Not so. Get the Worlds Best Lotto System for peanuts!
We start off with 6 pairs.  In TWENTY games you can  cover any 3 pairs from 6 pairs, and this guarantees us First Prize IF we have the 6 winning numbers within 3 pairs.  However, since your best 3 pairs count, there is great potential for small wins.
Next, we look at 4 trios – in just SIX games you can  cover any 2 trios from  trios, and this guarantees us First Prize IF we have the 6 winning numbers within 2 trios.  However, since your best 2 trios count, there is again great potential for small wins.
Now we have 26 games but there is no guarantee of 5-from-6 or 4-from-4.  So, we fix this by adding 34 games to cover it.  We now have  FOUR different guarantees – in just 60 games.
Think about that for a moment.  924 games to cover every possible 6-number combination from 12 numbers.  To get the 4 guarantees above – just SIXTY games.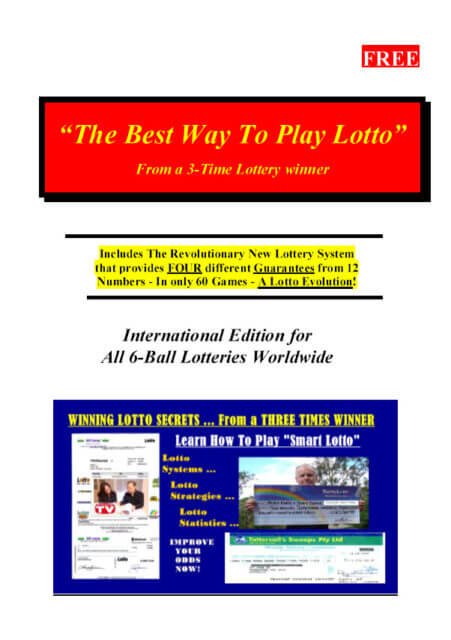 Just 60 games. THAT brings into play a very exciting Lotto Strategy – the key to winning the lottery. In just 240 games, you can cover 48 of the 49 numbers in any 49-ball lottery worldwide. For Australia's 6-from-45 lottery, you can cover all 45 numbers once and 3 a second time.  We think covering all, or most, of the numbers in your lottery is Smart Play – but you can play 12, 24, 36, 48 or more balls with multiple entries.
We strongly suggest playing a Group Entry, sharing the cost with family, friends, work colleagues etc.  In fact, your free lotto book includes a session on how to set up your Private Lotto Club entry.
This is an International Lottery Book, with a Lottery System 12  for All 6-Ball Lotteries Worldwide.  It is written by a THREE-TIME LOTTERY WINNER.  My Flagship lottery book, "Winning Lotto Secrets" is on this website.  I have also written the lottery numbers systems book, "How I Won Lotto 6 Weeks Out Of 10" (with screenshots of the coupons). NOT First Prize, but I played lotto at a 40% discount for those 10 weeks, playing ONLY 15 games! When was the last time you won lotto 6 weeks out of 10?
Lottery winning Systems should have TWO objectives – to get First Prize (obviously!) but ALSO to pick up regular small wins as you wait for the big one.  It is also important to examine your lotteries Pay Out Structure; if your lotto games pays out on just 3 winning numbers, picking up regular wins is child's play.
Looking for  lottery systems that truly work?  Get my FREE lotto book now – Simply send an EMAIL to terry.aust@gmail.com and we will send you the book by email, totally free, no catches, within 24 hours, Mon-Fri.
And while this book is copyright, you have my permission to give away as many free copies as you want PROVIDED you do not charge for it.
And what else do we think makes this the Worlds Best Lotto System ?  It is free!
PS: 

In response to Requests, we now have a PAID version of this Free Lotto Book

. 
The Free Book explains the System but does not have Templates for you to create the numbers yourself – you get the System completely done for you in return for me getting a Free Share in your Syndicate.
People have been asking me for a while for a book where they can do everything themselves, without me having to be a part of their Syndicate / Lotto Group.  We have now bowed to their wishes.  You can buy the paid book, with EVERYTHING in it to create your own entry. The cost is $27 AUD.  I recommend getting the Free Version so that you can see the Principles and Upgrading to the Paid version if you want to fly solo. AND we have gone over the System with a fine tooth comb and reduced the games to 200 not 240 – 50 games for each set of 12 rather than 60! Click below to go to Paypal for the Paid Version.
---
---